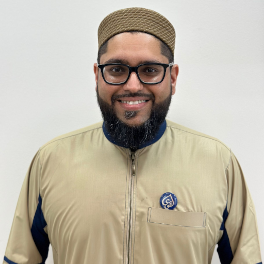 Imam Abdul Rahman Bashir, also known as Imam ARB, began his pursuit of basic Islamic studies and Arabic grammar at Jamiatul Uloomil Islamiyah (Institute of Islamic Sciences) Allama Binoori Town in Karachi, Pakistan. Shortly after, he transferred to the Institute of Islamic Education in Dewsbury, England, where he completed the remaining eight years of an Islamic theology and jurisprudence curriculum. He graduated as valedictorian in the year 2000.
 
Imam ARB served as the religious director for the Jefferson Muslim Association in New Orleans, LA, from 2001 to 2006, and again from 2011 to 2016. During that time, he was actively involved in various interfaith initiatives and worked closely with local and federal law enforcement agencies.

Currently, Imam ARB resides in Allen, Texas, and serves as the Imam of the Islamic Association of Allen. He is fluent in English, Urdu, and classical Arabic, and is father of three boys named Bilal, Jamal, and Kamal. We are excited to have Imam ARB as an instructor at Taqwa Seminary!