Marifa & Suhba Instructor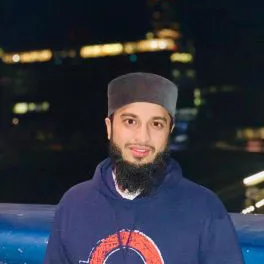 Mufti Mohammed Wasim Khan
Mufti Mohammed Wasim Khan was born in Dallas, Texas and began his journey in Islamic knowledge at a very young age. After spending considerable months improving his Quran recitation at Jami'atul 'Ilm Wal-Huda in UK, Mufti Wasim embarked on a decade-long journey to study the sacred sciences. After studying in 4 different continents, Mufti Wasim graduated in 2010 from Darul Uloom Zakariyya.
Mufti Wasim stayed for another 2 years at Zakariyya to complete the Iftaa course (where a scholar learns the discipline of passing Islamic edicts) and for further specialization in the sciences of Tafseer, Hadith and Fiqh – fields in which he holds multiple ijazaat in. Mufti Wasim currently holds the second shortest sanad in the world to the Prophet Mohammed (s) through the sanad of Maulana Mekki Hijazi. His Ijazats reach in the hundreds, amongst his most prominent ijazats are MuftiRidhaa ul Haq, Sheikh Makki Hijazi, Sheikh Shoaib Arnaoot, Sheikh Younus Saharanpuri, Sheikh Muhammed Awwamah and Sheikh Mohammed Ali Saabuni.
Mufti Wasim is a regular speaker nationally and internationally at conferences, workshops, youth programs, social services events and development programs. In over ten countries internationally and hundreds of cities across the globe he has had the opportunity to teach students. In 2013, Mufti Wasim presented his thesis on abortion at the American Muslim Jurist Assembly (AMJA), making him the youngest person to ever present a paper at the largest Fiqh conference in America to further his academic interests in 2012. Mufti Wasim has taught Aqeedah, Hadith and Fiqh among other subjects to aspiring scholars. Mufti Wasim is currently the Director and Dean of ISRA Foundation, an online and onsite based academic institution based in Houston which develops courses and classes for college students and professionals. He also founded the "Khateeb Notes" initiative, a medium whereby over 300 scholars from 6 continents exchange weekly Khutbah notes.
Mufti Wasim is currently a consultant for the Islamic Association of Collin County in Dallas, Texas. He will be involved in program development and Tarbiyya for the youth. He is also the Dean and Director of ISRA Foundation, an Islamic seminary dedicated to produce scholars.. Mufti Wasim is also the Vice-President of his family business, "Caravan Travel" through which he takes regular Hajj and Umrah groups.